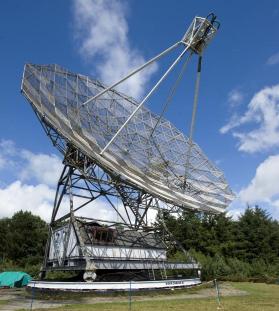 70cm EME signals recorded using the 25 m dish in Dwingeloo.
Currently, there is no live reception. Instead, we're playing a recording made during the EME activation of the 300m Arecibo dish during the Echoes of Apollo project. This recording was made on April 17, 2010, around 19:00 UTC, on 70 cm.
We're also playing a recording made during the 2009 EoA project. This recording (made on 23 cm) includes a QSO between PI9CAM (that's the callsign we use at the Dwingeloo dish when transmitting) and HB9MOON, around 1296.040 MHz.
More WebSDR receivers for other bands can be found via http://www.websdr.org/.
Note: you need both Java and JavaScript enabled for this page to work properly. If you don't hear anything, probably Java is disabled or its version is too old (i.e., pre-1.4.2).
---
---


Waterfall view:
Or zoom with scroll wheel on waterfall.
Move by dragging the waterfall with the mouse.
Bandwidth:
?
kHz @ -6dB;
?
kHz @ -60dB.
Or drag the passband edges on the frequency scale.
Waterfall settings:
Speed:
slow
medium
fast
Size:
small
medium
large
View:
spectrum
waterfall
weak sigs
strong sigs

?
dB; peak
?
dB;
---
---
Chatbox:
This chatbox is intended to discuss the operation of the WebSDR.
The operators of this site disclaim any responsibility for text appearing in this chatbox.
---
Statistics:
---