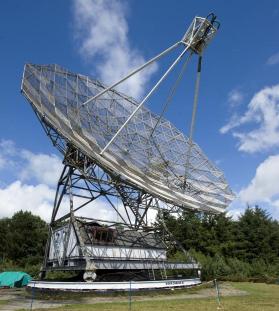 70cm and 23cm EME signals recorded using the 25 m dish in Dwingeloo.
Currently, there is no live EME reception. Instead, we're playing a recording made during the EME activation of the 300m Arecibo dish during the Echoes of Apollo project. This recording was made on April 17, 2010, around 19:00 UTC, on 70 cm.
We're also playing a recording made during the 2009 EoA project. This recording (made on 23 cm) includes a QSO between PI9CAM (that's the callsign we use at the Dwingeloo dish when transmitting) and HB9MOON, around 1296.040 MHz.
6m receiver for meteor echoes
The 6 m band receiver uses a 3 element yagi antenna bearing south, 10 m above ground in the radio quiet zone near the radio telescope. Its main aim is to listen for meteor echoes from the beacons at Dourbes and Ypres in Belgium.
---
Next live EME operation: JOTA weekend on October 14-16, 2016. We hope to have the dish running on Friday (Oct. 14) and Saturday (Oct. 15), both days from about 17:00 UTC (moonrise) till 01:00 UTC (which is 3am local time) early next UTC day. The main aim is to let scouting stations have a go at EME, but of course others users are also welcome.
---
---
More WebSDR receivers for other bands can be found via http://www.websdr.org/.
---
It seems you are using a mobile device; click here to switch to the mobile version of this site.
It seems Java is not installed or disabled on your computer. You need to install and/or enable it for this website to work properly.
Since Java version 7u51, Java needs to be enabled separately for each website; see
http://websdr.org/java.html
for instructions.
Your browser does not seem to support HTML5 WebAudio; please try a recent version of Firefox, Chrome, Opera or Safari; or switch to Java.
---


Bandwidth:
?
kHz @ -6dB;
?
kHz @ -60dB.
Or drag the passband edges on the frequency scale.
Waterfall view:
Or use scroll wheel and dragging on waterfall.
Speed:
Size:
View:

?
dB; peak
?
dB;
mute squelch autonotch
Volume:
---
Signal strength plot:
---
---
Chatbox:
This chatbox is intended to discuss the operation of the WebSDR.
The operators of this site disclaim any responsibility for text appearing in this chatbox.
---
Statistics:
---